Oroubah Dieb's Early Years
Oroubah was born in 1968 in the Syrian capital of Damascus. She graduated from the coveted Adham Ismael Center for Visual Arts in Damascus in 1989 with a focus on sculpture. Oroubah further refined her command of the sculpture when she proceeded to obtain a degree in sculpting from the Damascus Institute of Practical Arts, which she completed in 1991.
In the years that her early career consisted of, Oroubah Dieb participated in several national exhibitions and cultural festivals. Among those galleries that featured Dieb's work at some of the nation's most celebrated private cultural institutions. These included Ishtar Gallery, Shoura Gallery, and Kamel Gallery.
International Recognition and Accolades
In 1998 Oroubah was awarded the prestigious Arab Women and Development Forum prize. In 2004, Oroubah's international debut came in the form of a joint exhibition with her husband and fellow artist, Hammoud Chantout at Montréal's Art Form Gallery. Over the next few years, Oroubah would participate in several joint exhibitions in Arab cultural hubs such as Amman, Beirut, Dubai, and even beyond the region in Washington, D.C. 
Oroubah had an uninterrupted streak of showcasing her art at the Annual Exhibition of Syrian Artists from 1991 until the unfortunate events of 2011 when the civil war broke out in Syria.
A Growing Interest In The Healing Power of Art 
Oroubah Dieb does not just identify as a visual artist. In fact, she will usually think of herself as a philanthropist first and foremost. She sees her life's mission as one of "spreading the healing power of art". To that effect, Oroubah launched her own art school in Damascus in 2004 in collaboration with her husband and artist Hammoud Chantout. 
"Hammoud and I established the first private art school that taught both children and adults in Syria," Oroubah reminisces. "We ran The Chantout Art Institute it for seven years, during which we worked with schools and universities, and managed to sponsor numerous exhibitions and activities."
An Untimely Relocation, Followed By Permanent Displacement
When the devastating outcomes of the civil war started looking like they would be a long term issue in 2012, Oroubah and her family had no choice but to flee the country. Hoping that it would only be a temporary refuge, they sought asylum in Syria's neighboring country, Lebanon. 
Dieb reflects on this surreal and painful series of events as follows: "we invested seven years into our school until we suddenly were forced to leave Syria. In a matter of weeks, we had to close the school, move to Lebanon with our three girls as our lives became impossible. We had to give up very good jobs and a comfortable life to go to Lebanon, where we have had to start from almost scratch."
What was supposed to only be a few weeks in Beirut turned into months. And although the hope of returning home faded by the day, Oroubah Dieb refused to stand by idly and remove herself from the equation. Oroubah began volunteering in several art workshops in Beirut where she would help Syrian refugee children cope with their trauma through art. "We were working in the camp on how to remedy the effects of war on children through the arts," said Dieb. "We held many exhibitions at the French Embassy in Lebanon and also in downtown Beirut. There are Syrian refugees who have settled in the Sabra and Shatila camps and we worked with them."
Oroubah, Hammoud, and their two younger daughters ended up residing in Beirut until 2016. That was the point at which point it became sadly evident that the home that they had left five years ago was to become a memory with little hope of return.  
A New Chapter and A Voice For Those Displaced
Oroubah and her family made the decision to relocate permanently to France. She reflects on this as a blessing and reminds us that she was incredibly fortunate to be able to start all over again. "I was lucky enough to be able to leave with my family on a plane when my eldest daughter was already pursuing her studies in France,". Dieb continues to count her blessings by adding: "I also had many acquaintances in or around Paris, so my transition was really smooth compared to many others who didn't have family, friends or the ability to speak the language of their new country".
In the first few years of her journey as an artist, Oroubah primarily sculpted. In the past few years, she has experimented with several disciplines that include drawing, painting, and bonding. Since her arrival in France in 2016, she favors using the brush chisel. Her subjects nowadays are mainly women and children who are exiled or in refugee camps.
"I had to give everything up. I built a life and a career with my husband for 45 years in Syria. But we had to start from almost nothing again in France. This is my suffering"  Dieb recount. However, she reminds us that "I am well aware of the much greater drama and misery of millions of Syrian refugees in Lebanon, Jordan, and Turkey".  As soon as she arrived in France in 2016, Oroubah spent some time volunteering in art workshops with Syrian refugee children in France at the American University in Paris (AUP).
Oroubah comments on how her subjects have been shaped by her displacement. "My art is incredibly personal in its topics. Before the uprising in Syria, I portrayed social subjects like maternity, love and dancing. Nowadays, a lot of my art embodies the experience of living in exile that refugees are forced to face. My paintings depict the dramatic situations that are borne of population displacement and migration".
Oroubah works out of L'Atelier des Artistes en Exil (The Artist In Exile Workshop). The mission of this association is to help exiled artists. The credo they operate with is that  "refugee is not a profession". It, therefore, provides them the means and space to test their practice and to rebuild themselves.
As a testament to Atelier's success in enabling artists to relaunched their careers, Oroubah recently managed to hold her first solo exhibition since moving to France. "Material in Exile" launched at Gallery Terrain Vagh in Paris, on June 20 2020 to coincide with World Refugee Day.
Looking to the future, Oroubah hopes to spread awareness of the amount of Syrians still residing in refugee camps in many countries. "I want everyone to know about my people's struggles so that we can begin working together on easing their suffering". 
Written by: Abdulah S Al-Ghoul
Abdulah Al-Ghoul is a digital project manager and strategist with a background in several industries including hospitality, fine arts and marketing.
Abdulah founded the Marsoum Art Collective in 2018 when he was based out of Vancouver, BC, Canada. He is currently based out of Toronto, ON, Canada.
Learn more about Abdulah here.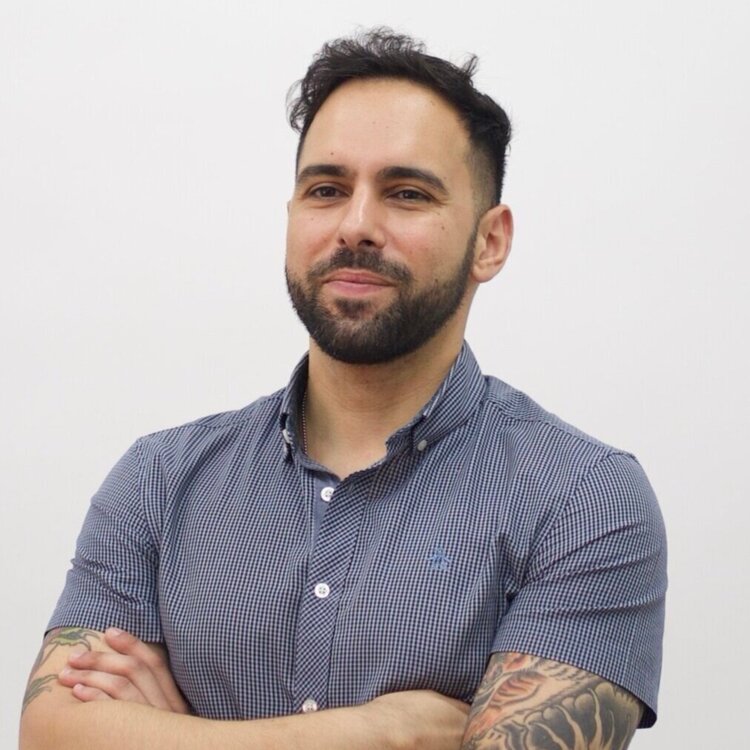 ---